TCM, Traditional Chinese Medicine
Take the step towards better health and vitality using this Traditional Chinese Medicine (TCM) technique.
Acupuncture addresses the physical, mental and emotional imbalances that give rise to symptoms.
The goal of Acupuncture treatment is to correct energy circulation in order to establish a healthier state of body function. Following treatment, you will often notice that your general health, sleep, digestion and energy levels will begin to improve.
The origins of acupuncture can be traced back over 2,000 years, making it one of the oldest health care systems in the world. Today, acupuncture supports the treatment of a wide number of conditions.
Acupuncture treatment involves the insertion of fine, sterile, single use, disposable needles into specific sites (acupuncture points) along the body's energy pathways (meridians) to clear energy blockages and encourage the normal flow of energy, or Qi, through the body.
What a great gift to give someone – a Gift Voucher from Acupuncture Beerwah.
Gift Vouchers can be purchased online or at the office and used towards any recommended treatment. And your loved ones will love it!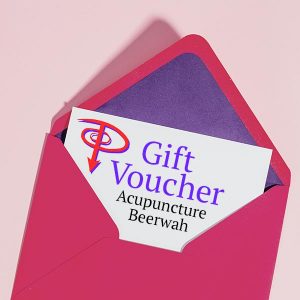 When performed by a suitably trained practitioner, acupuncture is generally considered to be safe for most people, but any procedure that involves puncturing the skin with needles or manipulating the human body carries some risk.

Acupuncturists should use sterile, disposable needles to prevent the transmission of blood-borne diseases and reduce the likelihood of infection at the puncture site.
Does acupuncture have any side effects?
Acupuncture therapy is widely accepted because of the fact that it has no serious side effects.
Are the needles safe?
Completely. Needles are made of stainless steel; they are pre-sterilised and disposed of after each session.
What does it feel like?
Most patients describe a dull, slightly aching sensation when the needle is inserted.
Bernette is an amazing, caring and thorough acupuncturist. She has helped me on many occasions with headaches, backaches and other issues. I have found relief and wonderful advice from this beautiful soul. I highly recommend her treatments.
I have been enjoying my new lease on life after having Acupuncture sessions with Bernette Ledger. The improvements in my pain levels are just Fantastic. Thank you Bernette for being such a great Practitioner.
Let's start your healing now.
Book your appointment online today.

My qualifications include Bachelor of Health Science (Acupuncture). I use Moxibustion, Cupping, Chinese Herbs, Visible Red Spectrum Laser Therapy, Chinese Exercise Therapy, Auricular Acupuncture, Si Yuan Style Balance Acupuncture.